Thanks everyone for entering, here are the winners, congratulations!



and here is the screenshot.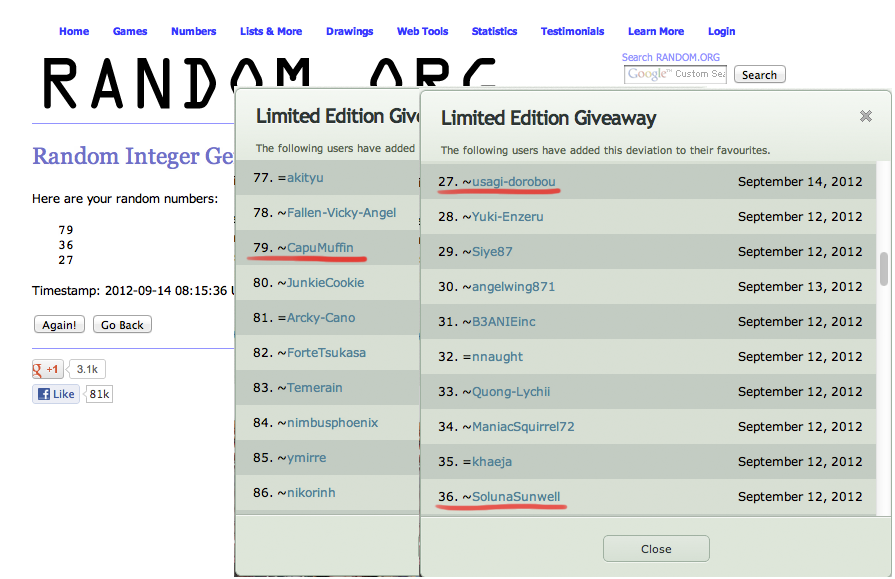 I have noted the winners, please reply within 24 hours or I will choose another person.
Also, I noticed a lot of participating artists entered, I packed a set in each artist's package so you guys all will receive a set

________________
Many of you are probably aware that we did a giveaway on Tumblr and Facebook a while back - don't worry we haven't forgotten about it.
We apologize for the delay; we were busy with preorders.
Tumblr winners have been notified, but there is a problem with Facebook due to privacy settings.
We could only see the list of people who shared the post AND had a "public" profile. And as you all know, many people have their Facebook on private because of security reasons. We didn't know this before the giveaway because we aren't that familiar with Facebook.
To make up for this, we are giving away
3 SETS OF LIMITED EDITION ITEMS ON DEVIANTART!
More information on limited edition items here: [link]
Please read the rules on how to enter:

We are giving away 3 sets of limited edition items,
NOT THE BOOK.
Each winner will receive ONE whole set of 2 posters, 4 postcards, and 4 bookmarks.

You HAVE to be comfortable on giving your address away. We are NOT going to do anything to your address, but unfortunately we have no time or ways to prove that to you. So it's up to you to decide if you trust us.

If you're not comfortable on giving away your address, please do everyone a favor and DO NOT enter. Thanks.

If you're a minor, please tell your parents if you win. We don't want you to in trouble with your parents or something like that.

We will cover the shipping fees to wherever you are.

Favorite
this journal for ONE chance. Please do NOT use multiple accounts. If we find out that you did, we will pick another winner.

Comments will
NOT
count.

This will end on
12:01 AM PST Friday, September 14

When you put this journal in fav, there will be a number if you click the list of "who". I will pick the winner with random.org by generating random numbers, and the corresponding person with the number wins. I don't know if your number changes when more people favorite it, but I will use what I see when I generate the number, and I will take a screenshot to prove it.

Winners will be announced and notified via note on the 14th.

Yes you can enter and win if you already have a set, we won't stop you, but we would appreciate it if you gave someone else a chance to get it though. All international orders/artists do have a set that's in their package.
Lastly, we would like to apologize for the delay again, and thank you for all your support!